Description
Zaditen is a prescription allergic asthma treatment medication for children. The active ingredient Ketotifen is an asthma prophylactic class drug that works by suppressing the body's immune system response to allergens so that acute attacks occur less often.

It limits the system's ability to produce the histamines that prompt inflammatory responses for allergic asthma symptom relief with less constriction of the airways and allergic rhinitis / eye irritation. Parents should be aware that it is common for several weeks of medication use to be required before a significant reduction in allergic asthma attacks are seen in children.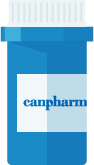 Directions
Children 6 months to 3 years of age: standard dosage is based on body weight at a measurement of 0.05 mg per kilogram of weight 2x daily, and taken in the morning and evening.

For children over 3 years of age: standard dosage is Zaditen 1 mg 2x daily, in the morning and evening.

Children may be advised to start on a lower dose and increase to the recommended dose after 5 days to minimize Zaditen side effects.

Medication can be taken with or without food.
Ingredients
The active ingredient in Zaditen is (Ketotifen).
Cautions
Let your doctor know if you have any history of diabetes, seizures, insomnia or chronic sleep deprivation, or allergies to benzoate compounds before starting on Zaditen.

Failure to take medication as indicated in prescription can result in severe allergic asthma attacks resuming.

Be aware of medication expiry date.

Keep medication out of reach of children and supervise the administration of it to them.

Interactions
Negative drug interaction risks may exist between Zaditen 1mg and other Rx or OTC medications.
Let your doctor know of all medications your child is currently taking before receiving a prescription and going to buy Zaditen online.
Side Effects
Zaditen side effects may occur, and some people may have abdominal pain, drowsiness, dry mouth, headache, increased appetite, irritability, nausea, nervousness, sleeping difficulties, slight dizziness, or weight gain. If Zaditen side effects are experienced it may be best to stop use and meet with your doctor again to discuss children allergic asthma treatment alternatives.


IMPORTANT NOTE: The above information is intended to increase awareness of health information and does not suggest treatment or diagnosis. This information is not a substitute for individual medical attention and should not be construed to indicate that use of the drug is safe, appropriate, or effective for you. See your health care professional for medical advice and treatment.