Description
Zytiga is a prescription medication for prostate cancer treatment medication for treatment of metastatic castration-resistant prostate cancer and metastatic high-risk castration-sensitive prostate cancer. Abiraterone Acetate is effective for slowing the progress of cancerous tumors and does so by lowering levels of male hormones (DHEA and androstenedione) to slow or stop prostate cancer cell growth. This medication is often indicated for patients who have inferior prostate cancer treatment results despite therapy or surgery to bring testosterone levels down.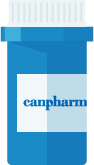 Directions
Standard dosage is 1,000 mg of Zytiga taken 1x per day. The dosage may be taken as two 500-mg tablets or four 250-mg tablets. Zytiga is usually taken with 5mg of prednisone each day when this medication is part of a person's treatment.
Dosage may vary based on physician's assessment and you must always take your medication exactly as shown in your prescription.
Ingredients
The active ingredient in Zytiga is Abiraterone Acetate.
Cautions
Let your doctor know of any history of liver disease or liver failure, heart disease, hypertension, hypokalemia, edema, adrenal insufficiency, or pituitary disorders before beginning on Zytiga.
Zytiga tablets should never be touched or handled by a pregnant woman.
Using effective birth control if your sex partner is pregnant or able to get pregnant is important. Also continue using birth control for at least 3 weeks following last dose of medication.
Keep Zytiga tablets in a cool, dry place and out of the reach of children.
Interactions
Negative drug interaction risks may occur between Zytiga and other Rx or OTC medications, including amlodipine / atorvastatin / calcium 600 D (calcium / vitamin d) / rosuvastatin / tamsulosin / furosemide / gabapentin / hydrochlorothiazide / lisinopril / losartan / leuprolide / metformin / omeprazole / oxycodone / prednisone / simvastatin / tamsulosin / Vitamin D3 (cholecalciferol) / denosumab.
Let your doctor know of all medications you are currently taking before getting a prescription and going to buy Zytiga online.
Side Effects
Side effects from using Zytiga are possible, and some people may have a feeling of being very weak or tired, feeling very hot, high blood sugar, increased blood pressure, swelling in your legs or feet (edema), anemia, low blood potassium, painful urination, abnormal liver function tests or other blood tests, joint pain or swelling, headache, nausea, vomiting, or diarrhea.
If Zytiga side effects are seen you may want to stop use and meet with your doctor again to discuss prostate cancer treatment medication options.
IMPORTANT NOTE: The above information is intended to increase awareness of health information and does not suggest treatment or diagnosis. This information is not a substitute for individual medical attention and should not be construed to indicate that use of the drug is safe, appropriate, or effective for you. See your health care professional for medical advice and treatment.