Description
Augmentin is a prescription antibiotic used for bacterial infection treatment. It is part of the penicillin class of antibiotics and as a combination antibiotic it is better suited to be prescribed for a variety of different bacterial infections. Augmentin is frequently prescribed for ear infections, sinus infections, skin infections, and urinary tract infections as well as prescribed as an antibiotic for pneumonia. As it is the case with all antibiotics it is important for users to finish the entirety of medication dispensed to them, even if it appears that the infection has cleared.
You can buy Augmentin with a prescription, and your best price on Augmentin 875 immediate-release antibiotic will be when you order medication online from Canada and Canpharm.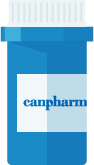 Directions
Standard dosage is to take Augmentin antibiotic with food every 8 to 12 hours and at evenly spaced intervals until medication is finished.
Dosage may vary based on age, weight, medical condition, and response to any existing treatment.
Ingredients
The active ingredients in Augmentin are Amoxicillin-Pot and Clavulanate.
Cautions
Let your doctor know if you have any history of liver or kidney disease or infectious mononucleosis before starting on Augmentin.
This medication contains aspartame, and patients with phenylketonuria may not be suitable for using Augmentin because of related safety risks.
Medication may cause live bacterial vaccines to work less effectively.
Be aware of expiry date for medication.
Interactions
Negative drug interactions are possible between Augment and other Rx medications, including methotextrate, Jantovin, Zyloprim, and some oral birth control medications. Let your doctor know of all medications you are currently taking before getting a prescription and proceeding to buy Augmentin online.
Side Effects
Side effects from using Augmentin may occur, and some users may experience diarrhea, nausea, or vomiting. If side effects are seen, you may want to stop use and speak to your doctor again regarding multi spectrum antibiotic alternatives.
IMPORTANT NOTE: The above information is intended to increase awareness of health information and does not suggest treatment or diagnosis. This information is not a substitute for individual medical attention and should not be construed to indicate that use of the drug is safe, appropriate, or effective for you. See your health care professional for medical advice and treatment.