Description
Bactroban is a prescription antibiotic skin ointment for prevention of skin infections, and also has off-label uses for treating bacterial infections in the nose. When used this way the technique is called Bactroban irrigation, and the antibiotic cream gets mixed with a saline solution and then rinsed into the nostrils to treat an infection in the nose. Doctors will occasionally suggest this treatment rather than using oral antibiotics. Bactroban may also be used as nasal ointment for nosebleeds too.
You can buy Bactroban with a prescription, and your best price on it is when you order medication online from Canada and Canpharm.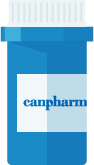 Directions
Topical skin antibiotic: Apply Bactroban ointment in moderate amount to affected areas of skin 3 times per day for 1 to 2 weeks.
Antibiotic nasal irrigation: Wash your hands with soap and warm water before mixing solution.
Use rinse bottle to mix sinus saline solution and with 2 level teaspoons of non-iodized salt added per quart of water. Shake or stir. Adding 1 level teaspoon of baking soda (pure bicarbonate) to the solution may reduce irritation.
Squirt 1 inch of Bactroban ointment into the rinse bottle and tightly cap the bottle. Shake slowly so that Bactroban ointment dissolves. Let the bottle sit at room temperature and then shake again until the ointment is dissolved.
Squirt 50cc of the solution thoroughly into each nostril as required.
Irrigate 2x daily until infection clears. If infection does not clear within 2 weeks of treatment see your doctor again.
Ingredients
The active ingredient in Bactroban ointment is Mupirocin.
Cautions
Do not exceed dosage regulations of maximum 2 applications (4 total, max of 2 for each nostril) per day if using ointment for Bactroban irrigation to treat an infection in nose.
Be aware of expiry date for medication.
Interactions
Negative drug interaction risks are possible between Bactroban ointment and other Rx medications, including antibiotic medication that contains Chloromycetin or Chloramphenicol. These medications are not used at the same time as Bactroban ointment.
Let your doctor know of all medications you are currently taking before getting your prescription and going to buy Bactroban ointment online.
Side Effects
Bactroban nasal ointment side effects may occur, and some people may experience diarrhea along with burning, stinging, pain, or irritation at the application site. If side effects are seen, you may want to stop use and speak with your doctor again regarding bacterial skin infection treatment options.
IMPORTANT NOTE: The above information is intended to increase awareness of health information and does not suggest treatment or diagnosis. This information is not a substitute for individual medical attention and should not be construed to indicate that use of the drug is safe, appropriate, or effective for you. See your health care professional for medical advice and treatment.