Description
Chemical Name: VENLAFAXINE (VEN-la-fax-een) EFFEXOR XR is medication that is used to treat mental depression, social phobia, panic disorder, generalized anxiety disorder, or to relieve the symptoms of anxiety. It works by affecting chemicals in the brain that may cause an imbalance resulting in conditions such as depression. Effexor XR comes in an extended release capsule (XR), meaning the medicine is released slowly into your body. Please note it is not used for anxiety or tension caused by the stress of everyday life.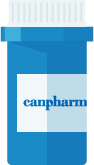 Directions
Effexor XR comes in tablet form and is taken orally once a day or as directed by your physician. It is usually taken with food, either in the morning or evening. Be sure to swallow the whole tablet. Do not crush, break, split, or chew it because it can release the entire chemical at once, increasing the risk of the side effects.
Some patients may find it difficult to swallow the tablet whole, so with the advice of their physician, they may open the capsule and sprinkle the contents onto a spoonful of applesauce. Swallow all of the mixture immediately without chewing. Drink a glass of water after each dose. Effexor XR should be taken at the same time each day to maintain an even level of the drug in your blood. In order for it to work effectively, it must be taken as prescribed. Effexor XR will not work if you stop taking it.
It may take several weeks to feel the benefit of this medication. Tell your physician if your condition persists or worsens.
Cautions
Before taking Effexor XR, consult your physician to verify that you are not allergic to any chemicals contained in this medicine. Effexor XR may contain inactive ingredients which can cause allergic reactions or other problems. Inform your physician of any medications that you are taking, including prescription, non-prescription and/or herbal supplements.
Effexor XR may not be right for you if you experience any of the following conditions:
bipolar disorder/manic depression
liver disease
kidney disease
high blood pressure and/or cholesterol
glaucoma
seizures or epilepsy
blood clotting disorder
pregnancy, planning to become pregnant, or breastfeeding
It is important to avoid drinking alcohol while taking Effexor XR because it can increase some of the side effects. The chemical venlafaxine which is contained in Effexor XR may impair a patient's thinking and/or reactions. Be careful if you drive or do anything that requires you to be alert.
Effexor XR is not recommended for anyone under 18 years old without the advice of a physician.
Side Effects
It is important to note that your physician has prescribed this medication because they feel the benefits to you outweigh the risk of side effects. Many people using this medication do not have serious side effects. If any side effects listed below persist or worsen, speak to your physician immediately.
Some mild side effects that can occur while taking Effexor XR include:
abnormal dreams
anxiety or nervousness
blurred vision
chills
constipation
diarrhea
difficulty sleeping
dizziness/drowsiness
dryness of mouth
heartburn
increased sweating
loss of appetite
vomiting and/or nausea
stuffy or runny nose
stomach pain or gas
nervousness (trembling or shaking)
unusual tiredness or weakness
weight loss
Seek medical attention immediately if any of these rare but serious side effects occur:
easy bruising/bleeding
decreased interest in sex
changes in sexual ability
muscle cramps/weakness
shaking (tremor)
back/bloody stools
persistent cough
seizure
severe headache
shortness of breath
vomit that looks like coffee grounds
hallucinations
unusual restlessness
loss of coordination
irregular heartbeat, severe dizziness
unexplained fever
twitching muscles
This is not a complete list of possible side effects. If you notice other effects not listed above, contact your physician or pharmacist.
When a patient under the age of 24 first begins to take antidepressant medication, they may have suicidal thoughts. Advise your physician if you have worsening symptoms of depression or suicidal thoughts during the first few weeks of treatment, or whenever your dose is changed. You should visit your physician regularly for at least the first 12 weeks of treatment.


IMPORTANT NOTE: The above information is intended to increase awareness of health information and does not suggest treatment or diagnosis. This information is not a substitute for individual medical attention and should not be construed to indicate that use of the drug is safe, appropriate, or effective for you. See your health care professional for medical advice and treatment.