Description
The Flovent inhaler is an asthma maintenance inhaler used ongoingly to reduce the severity and frequency of asthma attacks. The active ingredient Fluticasone is a corticosteroid medication that suppresses the inflammation that causes the airway to constrict and produces breathing difficulties and wheezing during an asthma attack.
The Flovent HFA is a good choice for long-term asthma control, but patients can be aware that it may take 1 to 2 weeks to see reductions in asthma symptoms and that a Fluticasone inhaler will not replace a fast-acting bronchodilator (asthma rescue inhaler). Buy Flovent inhaler from Canpharm.
What is Asthma?
Asthma is a chronic condition that causes airway inflammation and narrowing and causes symptoms like coughing, wheezing, breathlessness, and chest tightness. Triggers include allergens, exercise, cold air, stress, and infections. Treatment for Asthma involves medication, such as inhalers. These are used to manage the symptoms and reduce inflammation.
Fact Table
Formula
C22H27F3O4S
License
US FDA
Bioavailability
0.51%
Legal status
OTC
Chemical Name
Fluticasone
Elimination half-life
10 hours
Dosage (Strength)
50mcg (44mcg) (120 doses/inhaler), 125mcg (110mcg) (120 doses/inhaler), 250mcg (220mcg) (120 doses/inhaler)
Pregnancy
Consult Doctor
Brands
Flovent Inhaler
Protein binding
91%
PubChem CID
5311101
MedlinePlus
a695002
ChEBI
5134
ATC code
R01AD08
DrugBank
DB13867
KEGG
D01708
Routes of administration
Inhaled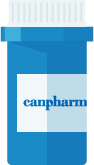 Directions
Standard Fluticasone dosage is 88mcg administered as an inhalation 2x daily, but a physician may increase the dosage based on the patient's response to the medication.
Take twice daily and at the dosage indicated in your prescription only.
Preparation
Prime Flovent HFA for the first time by releasing 4 sprays into the air and away from the face. Shake the inhaler well 5 times before each spray.
Administration
Shake the inhaler before application.
Turn to load the dose into the inhaler and use a counter window to reference how many doses are remaining in your inhaler
Exhale fully and place the asthma maintenance inhaler tip into your mouth and press down on the activation button to deliver the dose as you inhale fully and normally
In the event of a missed dose, patients should resume their next dose at the usual time in the morning or evening and not take a make-up dose. Visit our guide for additional information on How to Use a Flovent Inhaler.
Ingredients
The active ingredient in the Flovent inhaler is Fluticasone.
Cautions
For use by ages 4 and up only.
Let your doctor know if you have any history of liver disease, immune system dysfunction, low bone mineral density, recurring bacterial or viral infection, glaucoma, cataracts, herpes infections of the eye, or infections caused by parasites like giardia or pinworm before starting on the Flovent inhaler.
Also, tell your doctor if you have osteoporosis or if you smoke or have a nicotine addiction before starting on Fluticasone.
Store away from moisture, light, and very hot or cold temperatures at room temperature. Place the mouthpiece down while storing the canister.
Discard any medication that is unused 6 weeks after opening the foil pouch.
Interactions
Negative drug interaction risks may occur between The Flovent inhaler and other Rx medications, including gabapentin, ibuprofen, levothyroxine, lisinopril, metformin, omeprazole, prednisone, ProAir HFA (albuterol), Singulair (montelukast), trazodone.
Let your doctor know of all medications you are currently taking before getting a prescription and proceeding to buy Flovent inhaler online.
Side Effects
Side effects from using the Flovent inhaler may occur, and some users may have headaches, nausea, vomiting, upset stomach, cold symptoms, or hoarseness of voice. If Fluticasone side effects are experienced, you may want to stop use and meet with a doctor again to discuss asthma maintenance inhaler options.
Remember, these are not exhaustive lists, and it's important to consult with a healthcare professional for personalized advice and guidance. If you prefer, you may contact the U.S. Food and Drug Administration (FDA) directly. Visit Fda.Gov/MedWatch or call 1-800-FDA-1088. For complete details about Flovent Inhaler, please refer to Patient Information.
Frequently Asked Questions
---
What is the efficacy and onset for Zensa cream?
Zensa Lidocaine Cream will numb skin within 10 minutes and keep it numb for 3 hours.
What sizes is Zensa available in?
Zensa Lidocaine Cream is available in two sizes: 30g and 2.5g tubes. The 30g tube is best for shingles, hemorrhoids, and tattooing, while the 2.5g tube is for injections, skin tag removal, and piercings.
What are the ingredients in Zensa Lidocaine Cream?
The active ingredient in Zensa Lidocaine Cream is 5% Lidocaine. The non-active, excipient and filler ingredients are Purified Water, Benzyl Alcohol, Carbopol, Lecithin, Propylene Glycol, Vitamin E Acetate.
What is the pH of Zensa Lidocaine Cream?
Zensa Lidocaine Cream has a neutral pH of 7.4.
Where should Zensa Lidocaine Cream not be applied?
Keep Zensa Lidocaine Cream away from the eyes or ears and make sure it is not ingested through the mouth or anywhere internally.
IMPORTANT NOTE: The above information is intended to increase awareness of health information and does not suggest treatment or diagnosis. This information is not a substitute for individual medical attention and should not be construed to indicate that use of the drug is safe, appropriate, or effective for you. See your health care professional for medical advice and treatment.