Description
Each HFA inhaler has 200 doses.
CFC free.
VENTOLIN INHALER is used for relief and prevention of airway obstruction (bronchospasm) in patients with asthma or exercise-induced asthma. This medication is also used for treating patients with emphysema or chronic bronchitis when their symptoms are related to reversible airway obstruction. Patients will notice the effects of the inhaled form of VENTOLIN within 15 minutes and can last up to 6 hours.
The VENTOLIN INHALER is available only with your doctor's prescription.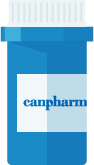 Directions
Remember to use this medication only as directed by your health care professional. Do not use more or less of it than what your doctor ordered. Do not stop using VENTOLIN without consulting your doctor as it may increase the chance for developing breathing problems.
The dose of VENTOLIN will be different for each patient's depending on your condition and medical history. The average dose is usually taken by mouth, 3-4 times daily or as directed by your doctor. To help patients remember to take their medication, it is recommended to take it at the same times daily.
This medication does not work immediately and should not be used for sudden attacks of breathing trouble. Your doctor may prescribe a quick-relief inhaler for sudden shortness of breath/asthma attacks while you are taking this medication.
Patients should clean their inhalers at least once a week by removing the metal canister, running water through the plastic actuator for 30 seconds, shaking the actuator to remove excess water, and allowing it to dry.
Cautions
Tell your doctor if you have ever had any unusual or allergic reaction to VENTOLIN or any other medication. Also, tell your doctor if you have any other types of allergies to things such as to foods, dyes, preservatives, or animals. Speak to your health care professional if you have any medical problems listed below as they may affect the use of this medicine.
diabetes
heart or blood vessel disease
heart rhythm problems (e.g., arrhythmia)
hypertension (high blood pressure)
hyperthyroidism (overactive thyroid)
hypokalemia (low potassium in the blood)
history of seizures - this medication may make these conditions worse
kidney disease -the effects may be increased because of slower removal of the medicine from the body
For additional important information about VENTOLIN, see below:
contact your doctor If your symptoms become significantly worse when you use VENTOLIN. Worsening of symptoms can be life threatening
Effects on the heart and blood vessels may occur with the use of VENTOLIN. Effects may include fast heartbeat, irregular heartbeat, change in blood pressure, or chest pain.
before and while you are taking VENTOLIN, tell your doctor if you have a heart, blood, or seizure disorder, high blood pressure, diabetes, or an overactive thyroid
tell your doctor if you are pregnant or nursing.
other medications can interfere with how well asthma medications work.
tell your doctor about all medications that you are taking, especially heart medicines and drugs that treat depression, and use other inhaled medicines and asthma medicines
Side Effects
Along with the needed effects of VENTOLIN, it can also cause some unwanted effects. Although not all these side effects may occur, it is important to know about the possible side effects. Remember that your doctor has prescribed this medication because he or she has judged that the benefit to you is greater than the risk of side effects.
Seek emergency medical help if you experience any of the following:
Fast, irregular, pounding, or racing heartbeat or pulse
Trembling or shakiness in the legs, arms, hands, or feet
More common side effects include:
body aches or pain
congestion
fever
runny nose
tender, swollen glands in the neck
trouble with swallowing
voice changes
Less common side effects include:
Abdominal/stomach pain
bladder pain
bloody or cloudy urine
chest discomfort
chest pain
cough or hoarseness
cough producing mucus
diarrhea
difficult or labored breathing
difficulty with swallowing
dizziness
feeling of warmth
fever or chills
frequent urge to urinate
hives
itching
loss of appetite
lower back or side pain
nausea
puffiness or swelling of the eyelids or around the eyes, face, lips, or tongue
redness of the face, neck, arms, and occasionally, upper chest
runny nose
shortness of breath
skin rash
sore throat
swollen, painful, or tender lymph glands in the neck, armpit, or groin
tightness in the chest
unusual tiredness or weakness
weakness
wheezing
Rare side effects include:
large, hive-like swelling on the face, eyelids, lips, tongue, throat, hands, legs, feet, or sex organs
noisy breathing
redness of the skin
sleepiness or unusual drowsiness
swelling of the mouth or throat
trouble breathing
Some side effects may not need medical attention. These side effects may go away during treatment as your body adjusts to the medication. Also, your health care professional may be able to tell you about ways to prevent or reduce some of these side effects. Other side effects not listed may also occur in some patients. If you notice any other effects, check with your healthcare professional.
IMPORTANT NOTE: The above information is intended to increase awareness of health information and does not suggest treatment or diagnosis. This information is not a substitute for individual medical attention and should not be construed to indicate that use of the drug is safe, appropriate, or effective for you. See your health care professional for medical advice and treatment.