Description
Vermox is a prescription anthelmintic medication used to treat intestinal worm infections for hookworms, roundworms, pinworms, and whipworms. The active ingredient in this medication – mebendazole – works to quickly kill the worms and the worm larvae and prevent the continuing of the infection and additional health risks that come with it. Vermox dosage can vary based on the patients age and the extent to which the infection has progressed, and it is important to take the medication exactly as directed and at the right frequency in order to eliminate the worms entirely.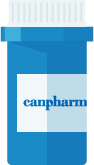 Directions
Standard Vermox dosage is to take the medication twice a day in the morning and evening for 3 days. If needed a follow-up treatment will begin in a few weeks, and this determination will be made by your doctor. Always take medication exactly as indicated in your prescription.
Dosage may be lowered for children.
Ingredients
The active ingredient in Vermox is Mebendazole.
Cautions
Let your doctor know if you have any history of anemia (low blood count), liver disease, or intestinal conditions like Crohn's disease or ulcerative colitis before starting on Vermox 100mg.
Use medication only when pregnant if your doctor approves it.
Medication should be kept in a cool, dry place and out of reach of children.
Interactions
Negative drug interaction risks exist between Vermox and other Rx medications, including metronidazole. Let your doctor know of all medications you are currently taking before getting a prescription and going to buy Vermox online.
Side Effects
Side effects from using Vermox are possible, and some users may experience stomach / abdominal pain, vomiting, diarrhea, headache, dizziness, or drowsiness. If Vermox side effects are seen, you may want to stop use and speak to your doctor again regarding intestinal worm killer medication alternatives.


IMPORTANT NOTE: The above information is intended to increase awareness of health information and does not suggest treatment or diagnosis. This information is not a substitute for individual medical attention and should not be construed to indicate that use of the drug is safe, appropriate, or effective for you. See your health care professional for medical advice and treatment.