Description
Chemical Name: RABEPRAZOLE (ra-BE-pray-zole)
Aciphex is used to treat symptoms of gastroesophageal reflux disease (GERD) and other conditions involving excessive stomach acid such as Zollinger-Ellison syndrome. It is also used to promote healing of erosive esophagitis (damage to your esophagus caused by stomach acid). Aciphex may also be given with an antibiotic to prevent gastric ulcer caused by infection with helicobacter pylori (H. pylori). .
ACIPHEX is not intended for immediate relief of heartburn symptoms.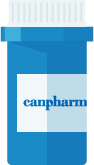 Directions
Use ACIPHEX exactly as directed by your healthcare professional. Do not change your doses or dosing schedule without consulting your healthcare professional. Generally, ACIPHEX is prescribed for 4 to 8 weeks only. Your doctor may recommend a second course of treatment if you need additional healing time.
ACIPHEX may be taken with or without food. It is recommended to take this medication with a full glass (8 ounces) of water. Do not crush, break, or chew - swallow the tablet whole. Breaking or tampering with the tablet may alter the effects of the medication. Take this medication for the full prescribed length of time.
Cautions
Not all medications work effectively for every patient, therefore it is important to consult your doctor about any health conditions, especially liver disease, if you have low magnesium levels in your blood, pregnant or planning on becoming pregnant and/or if you are breastfeeding.
Do not use ACIPHEX if you are allergic to rabeprazole or similar medications such as Prevacid, Nexium, Prilosec, Zegerid or Protonix.
Taking this medication may increase your risk of bone fracture in the hip, wrist, or spine. This effect mostly appeared in patients who took the medication over a long period of time or at high doses, (age 50+). It is unclear whether ACIPHEX is the actual cause of an increased risk of fracture however patients should inform their healthcare professional if they have osteoporosis or osteopenia.
Side Effects
All medication has side effects which may vary from serious to mild. Patients should remember that their healthcare professional has prescribed ACIPHEX because they feel the benefits of taking this medication outweigh the risk of side effects.
Contact your healthcare professional immediately if you have serious side effects, including:
Dizziness or confusion
Fast or uneven heart rate
Jerking muscle movements
Feelings of jitteriness
Muscle cramps, weakness or limp feeling
Cough or choking feeling
Seizure or convulsions
Less serious ACIPHEX side effects may include:
Severe headache
Upset stomach or diarrhea
Insomnia
Nervousness
Rash or itchy skin
A very serious allergic reaction to this drug is rare. However, get medical help right away if you notice any symptoms of any serious allergic reactions such as rash, itching/swelling, severe dizziness and/or trouble breathing.
This is not a complete list of possible side effects. If you notice other effects, contact your healthcare professional immediately.


IMPORTANT NOTE: The above information is intended to increase awareness of health information and does not suggest treatment or diagnosis. This information is not a substitute for individual medical attention and should not be construed to indicate that use of the drug is safe, appropriate, or effective for you. See your health care professional for medical advice and treatment.