Description
Aceon is prescription medication used for hypertension treatment or to treat stable coronary artery disease. Its effectiveness comes from the medication relaxing blood vessels and improving blood flow.

Aceon for hypertension patients is most effective with lowered cholesterol levels and a healthy body weight, as is standard with all ACE-inhibitor class medications. For coronary artery disease it lowers the risk of heart failure and is often used with anti-platelet, anti-hypertensive, or lipid-lowering therapy.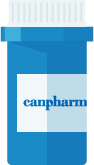 Directions
Hypertension: Aceon medication is taken as a recommended initial dose of 4 mg once a day. The dose may be titrated as needed to a maximum of 16 mg per day. Maintenance dosages range from 4 mg to 8 mg administered as a single daily dose or in two divided doses.
Coronary artery disease: Branded Aceon or Aceon generic is taken as an initial dose of 4 mg once daily for 2 weeks, and then increased as tolerated, to a maintenance dose of 8 mg once daily. For anyone aged 70 or up Aceon should be given as a 2 mg dose once daily in the first week, followed by 4 mg once daily in the second week and 8 mg once daily for maintenance dose if tolerated.
Ingredients
The active ingredient in Aceon is Perindopril.
Cautions
Do not exceed the maximum dosage amount specified with your prescription. Do not take Aceon if you are pregnant or planning to become pregnant unless your doctor approves.
Patients with renal failure (kidneys) should not use Aceon unless advised to by their doctor. Use of Aceon may promote angioedema, and African Americans are more at risk of angioedema when using ACE-inhibitor medications.
Interactions
Negative drug interaction risks are possible between Aceon and other Rx medications, including lorazepam, baclofen, furosemide, hydrochlorothiazide, metformin, prednisone, and simvastatin.
Diabetics taking Aliskiren should not use Aceon medication.
Let your doctor know of all medications you are currently taking before getting a prescription and going to buy Aceon tablets online.
Side Effects
Side effects from using Aceon are possible, but some users may experience dizziness, coughing, back pain, or throat irritation. If side effects are seen, you may want to stop use and speak to your doctor again regarding hypertension treatment medication alternatives.


IMPORTANT NOTE: The above information is intended to increase awareness of health information and does not suggest treatment or diagnosis. This information is not a substitute for individual medical attention and should not be construed to indicate that use of the drug is safe, appropriate, or effective for you. See your health care professional for medical advice and treatment.