Description
Chemical Name: Simvastatin (SIM-va-stat-in)
ZOCOR is a prescription drug that is used with diet changes (limiting the intake of cholesterol and fat) to reduce the level of cholesterol and certain fatty substances in your blood. It is primarily used for patients with coronary heart disease and high cholesterol to reduce the risk of coronary death, heart attack, undergoing cardiac procedures, and/or to reduce the risk of stroke or transient ischemic attack. The buildup of cholesterol and fats along the walls of your arteries decreases blood flow and in turn negatively affects the oxygen supply to your heart, brain, and other parts of your body.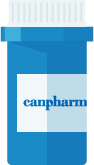 Directions
Doctors will provide patients on how many tablets to take daily. Take ZOCOR only as prescribed by your doctor. Your doctor will determine the appropriate tablet strength for you, depending on your condition, your current treatment and personal risks.
Generally, ZOCOR is taken in the evening with food and drink. The usual starting dose is 10, 20 or 40 mg daily. Your doctor may adjust your dose after at least 4 weeks to a maximum of 80 mg a day. Do not take more than 80 mg a day. Your doctor may prescribe lower doses, particularly if you are taking certain medicinal products or have kidney conditions. Keep taking ZOCOR unless your doctor advises you not to.
Grapefruit juice contains one or more components that alter how the body uses some medicinal products. Do not consume grapefruit juice while on this medication.
Do not take larger or smaller amounts or for longer than recommended. Carefully follow the directions on your prescription label. Patients are advised not to give their medication to anyone else, even if they have the same condition.
Cautions
Not all medications work effectively for all patients and can cause serious health issues. You should not take ZOCOR if you experience the following:
are allergic or hypersensitive to simvastatin or any other ingredients of ZOCOR
experiencing liver problems and/or severe lung disease
pregnant or breast-feeding
if you are taking medications to treat fungal infections, HIV protease inhibitors or medicine for depression
unexplained muscle pain and/or tenderness
ZOCOR may not be right for you. Before patients start ingesting ZOCOR, they should also complete a blood test to check their liver functioning. Patients should share all lifestyle and medical information with their doctor to ensure their safety. Inform your doctor of:
all your medical history & conditions, including allergies
alcohol consumption levels
kidney problems
thyroid problems
history of liver disease
plans to have surgery in the near future
past muscle problems during treatment with cholesterol-lowering medications
you or a close family member having a hereditary muscle disorder
use of any other medications, including prescriptions, non-prescriptions and herbal medications
Side Effects
Patients should inform their doctor if they do not feel well while taking ZOCOR. Like other medications, ZOCOR can have side effects, although they do not affect every patient.
Notify your doctor if you experience:
hair loss
muscle cramps
insomnia
poor memory
feelings of depression
erectile dysfunction
breathing problems including persistent cough and/or shortness of breath or fever
Some side effects that may occur while taking this medication include:
gas
stomach pain or cramps
diarrhea
constipation
heartburn
headache
blurred vision
dizziness
rash or itching
upset stomach or nausea
Contact your doctor immediately if you experience:
unexplained muscle pain, tenderness, or weakness
brown/black urine
tingling in hands or feet
jaundice
hives
painful swollen joints
bruising more easily than usual
swelling of the tongue or face
pregnancy
Other side effects not listed above may also occur in some patients. Consult your doctor if you notice any additional effects.
IMPORTANT NOTE: The above information is intended to increase awareness of health information and does not suggest treatment or diagnosis. This information is not a substitute for individual medical attention and should not be construed to indicate that use of the drug is safe, appropriate, or effective for you. See your health care professional for medical advice and treatment.