Description
Chemical Name: ESOMEPRAZOLE (ess-oh-MEP-ra-zole)
Nexium is a TABLET in Canada. It CANNOT be split in half.
NEXIUM is a prescription medication that is used for several conditions. It is classified as medication called proton pump inhibitors. Primarily, NEXIUM is used to treat the symptoms of gastroesophageal reflux disease (GERD), allow the esophagus to heal, and prevent further damage to the esophagus. It may also be used to treat other conditions involving excessive stomach acid such as Zollinger-Ellison syndrome.
Additionally, NEXIUM may also be prescribed along with other medications to prevent stomach ulcers. Its key purpose is to decrease the amount of acid produced by the stomach. It promotes healing of erosive esophagitis, preventing damage to your esophagus caused by stomach acid. Other physicians may prescribe NEXIUM to prevent gastric ulcer caused by infection with helicobacter pylori (H. pylori), or by the use of nonsteroidal anti-inflammatory drugs (NSAIDs).
NEXIUM is not for immediate relief of heartburn symptoms.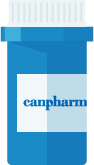 Directions
NEXIUM should be used exactly as prescribed by your physician. Do not take in excess amounts, or take it for longer than recommended. This medication is usually prescribed for only 4-8 weeks, although your physician may recommend a second treatment if needed.
NEXIUM should be ingested at least one hour before a meal with a full glass of water. The tablet should be swallowed whole - do not crush, break, or open the tablet. The tablet is formed to release the medication slowly in the body. Tampering with the tablet may affect its performance.
Continue taking NEXIUM regularly to get optimal results, even though your symptoms may improve before you have finished your cycle of medication.
Ingredients
Esomeprazole is the active ingredient in all versions of Nexium.
Cautions
Consult your physician before you start taking NEXIUM - it may not be the right medication for you. Inform your physician of any medications that you are taking, including prescription, non-prescription and/or herbal supplements. You may need a dose adjustment or special tests during treatment if you:
are allergic to NEXIUM, esomeprazole or to any other benzimidazole medication
have liver disease
have any sort of heart disease
have low levels of magnesium in your blood
are pregnant or planning to become pregnant
are breast-feeding
have osteoporosis or osteopenia
Taking a proton pump inhibitor may increase your risk of bone fracture in the hip, wrist, or spine. This effect has occurred mostly in patients aged 50+ who have taken the medication for an extended time period, or at high doses.
Side Effects
Drug manufacturers are required to inform patients of all known side effects of their products. Side effects of medication may range from mild to severe. Seek immediate medical attention if you have any signs of an allergic reaction, including hives, difficulty breathing and/or swelling of your face, lips, tongue, or throat.
Common side effects may include:
headache
diarrhea
nausea
stomach pain
gas
dry mouth
decreased appetite
constipation
More severe side effects may include:
severe allergic reactions
chest pain
dark urine
rapid heartbeat
fever
paresthesia
persistent sore throat
severe stomach pain
unusual bruising or bleeding
unusual tiredness
yellowing of the eyes or skin

This is not a complete list of side effects and others may occur. Call your physician for medical advice about additional side effects.
IMPORTANT NOTE: The above information is intended to increase awareness of health information and does not suggest treatment or diagnosis. This information is not a substitute for individual medical attention and should not be construed to indicate that use of the drug is safe, appropriate, or effective for you. See your health care professional for medical advice and treatment.